Sales - Introduction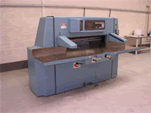 With many years experience and buying and selling Guillotines, we can Sell, Source, Inspect and Install your next machine.

As specialist engineers, we know what to look for when supplying or inspecting a machine, and as we will be supplying a parts a labour warranty, we ENSURE you get the best machine possible.

When buying from RPM you can be sure that you are getting the right machine,
""to maximize the reliability and productivity of your print finishing equipment"
"Factory trained product specialists for the full range of Wohlenberg, Maxima and Knorr Equipment"