Sales - Upgrades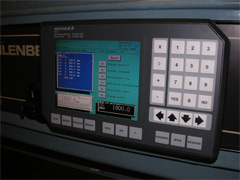 After many years of solid service, it often seems a shame to replace a tried and tested machine with a more modern machine. In truth, this is usually the best solution. However, if your reliable machine has only failed due to obsolete parts or a minor technical infringement, it may well be worth a small investment to rejuvenate your current machine for many more years of faithful service.

We have experience of most upgrade systems, and have been working with most manufacturers for many years. With this as our basis, we can advise on a suitable upgrade program for your machine. With safety issues being the priority we can upgrade most machines to fully comply with current P.I.A.C guidelines whilst also improving productivity with a range of backgauge control systems.
Two Hand Control Systems
Using the latest Category 1 items conforming to EN574, we can upgrade ALL Wohlenberg guillotines for Two Hand Control. This is essential and mandatory on ALL paper cutting guillotines. It is your operators First and most important line of defence.
Fixed Guarding
Often overlooked, fixed guarding is also essential in keeping your operator safely away from moving and dangerous parts. Many new regulations have been passed in the last 10 years, and few guillotines (from any manufacturer) escape completely unscathed. All guards can be replicated and fabricated in steel, plastic or polycarbonate at a fraction of the OEM price.
Light Barrier Sensor Upgrades
Early light barrier systems such as white light and Visulux Infra-red are no longer available. If reconditioned parts are not available from ourselves, we replace with the latest Twin channel Watchdog systems from SICK. These are now standard issue on the current range of Wohlenberg machines so you can be sure of quality, conformity and availablility. Available at a fraction of the Main Dealer price.
Light Barrier Control Systems
A full upgrade of your guillotines safety system. New Light-Barrier sensors and control gear (inc two hand control and over run protection) to bring your machine up to current safety requirements. The latest in Light Barrier systems with twin channel monitoring (pcu and hard wired), encoder position sensing with sensor back up for over-run detection and Two hand control as above. A Total solution.
Digital Programmer Upgrades
Computerise your Backgauge control for ultimate accuracy and reliability, comparable the most modern guillotines. Complete systems including modern Displays (touch screen, graphic panel or LED available), solid state drives and even new a new motor for the backguage on some systems. Accurate to 0.1mm these systems often pay for themselves in a few months in increased productivity and ar very user friendly nowadays.

Call for a quotation on any of the above systems
""to maximize the reliability and productivity of your print finishing equipment"
"Factory trained product specialists for the full range of Wohlenberg, Maxima and Knorr Equipment"